Ovaltop Holsteins is a family farm located in the Leatherstocking Region of Central New York. The 100% Registered Holstein herd consists of approximately 90 milking cows and an additional 75 head of young stock. Alfalfa, corn and some small grains are grown on 470 acres of gently rolling fields. The philosophy at Ovaltop has always been to breed a top herd of Registered Holsteins improving each generation in pursuit of exceptional type, outstanding production and increased genetic potential. It is also the goal at Ovaltop to grow the best quality forages possible to feed the herd.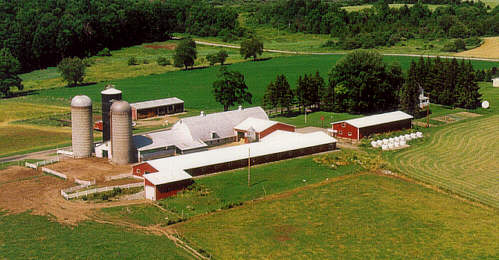 New York State Holstein Association Master Breeder Herd recognition ~~ 2000
Holstein Association USA PBR Awards ~~28 years
DHIR Average ~~ 79 Lactations 26,519 3.7 972 2.9 772
BAA 110.4% ~~23 EX; 48 VG; 2 GP
NYS Dairy of Distinction
NYS Super Milk Award
Since 1977 when the herd was relocated to Richfield Springs, NY Ovaltop has:

Bred 60 Excellent cows and 2 Excellent Sires
Developed an additional 13 Excellent cows
Bred 5 Gold Medal Dams; 1 Gold Medal Sire, & 7 Dams of Merit
Developed an additional 2 GMD's and 3 DOM's
Bred & shown many All NY; Jr. All NY; Jr All-American & All American Award Winners
2002 Premier Breeder & Premier Exhibitor at Eastern Spring National Show
2003 Premier Breeder at Eastern Spring National Show & NY State Fair
Developed 137 100,000# Cows (125 Ovaltop bred with 23 in present herd)
Bred & developed 11 200,000# Cows

Built a new tie-stall in 1991, increasing the herd size from 45 head to 90 head of milking cows.
Ovaltop Holsteins welcomes visitors from 11AM to 4PM at the farm on the Chyle Road in the Town of Warren. Directions: 3 miles east of Richfield Springs on US Route 20 to the hamlet of Warren, turn north onto Little Lakes Road for 3 miles to Chyle Road, turn east onto Chyle Road, farm one mile on right.
Home | N Family | T Family | K Family | J Family | Favorites | About | Genetic Opportunites | Ad Archives
All Rights Reserved � 2001 - 2022 Ovaltop Holsteins 436 Chyle Rd, Richfield Springs, NY 13439
E-mail:ovaltop@gmail.com
Phone: Howard & Ginny:315-858-2882 FAX:858-0842-- Doug:315-858-9058 -- Mike & Monica: 315-858-1460
This site was built and is maintained by Holstein Central Internet Services
Terms & Conditions of use